LUPKYNIS—A Novel, Structurally Modified Calcineurin Inhibitor
LUPKYNIS demonstrated1,2:
No impact on glucose or lipids in

AURORA 1

Magnesium level maintained within normal range in

AURORA 1

Predictable pharmacokinetic profile

No drug monitoring required

No interference with MMF metabolism
Amino acid
modification
3 Mean Glucose Level Remained Stable4a,b
Effect on Lipid Parameters4a,b
Over 3 years, for patients continuing in the study, mean magnesium levels remained within normal range4b
aNo data from AURORA 1 or AURORA 2 suggest that LUPKYNIS has a direct effect on serum glucose or lipids. LUPKYNIS is not indicated as a lipid-lowering agent.
bPatients who completed AURORA 1, and who elected to continue, remained in the same blinded treatment group. Patients in AURORA 2 had up to an additional 24 months of total exposure.
Analysis of AURORA 2 patients includes data from pretreatment baseline of AURORA 1, the 1-year treatment period in AURORA 1, and up to a 2-year treatment period in AURORA 2.4
Dual Mechanism of Action to Target Lupus Nephritis
Calcineurin inhibition
Podocytes
T cells
LUPKYNIS reduces proteinuria levels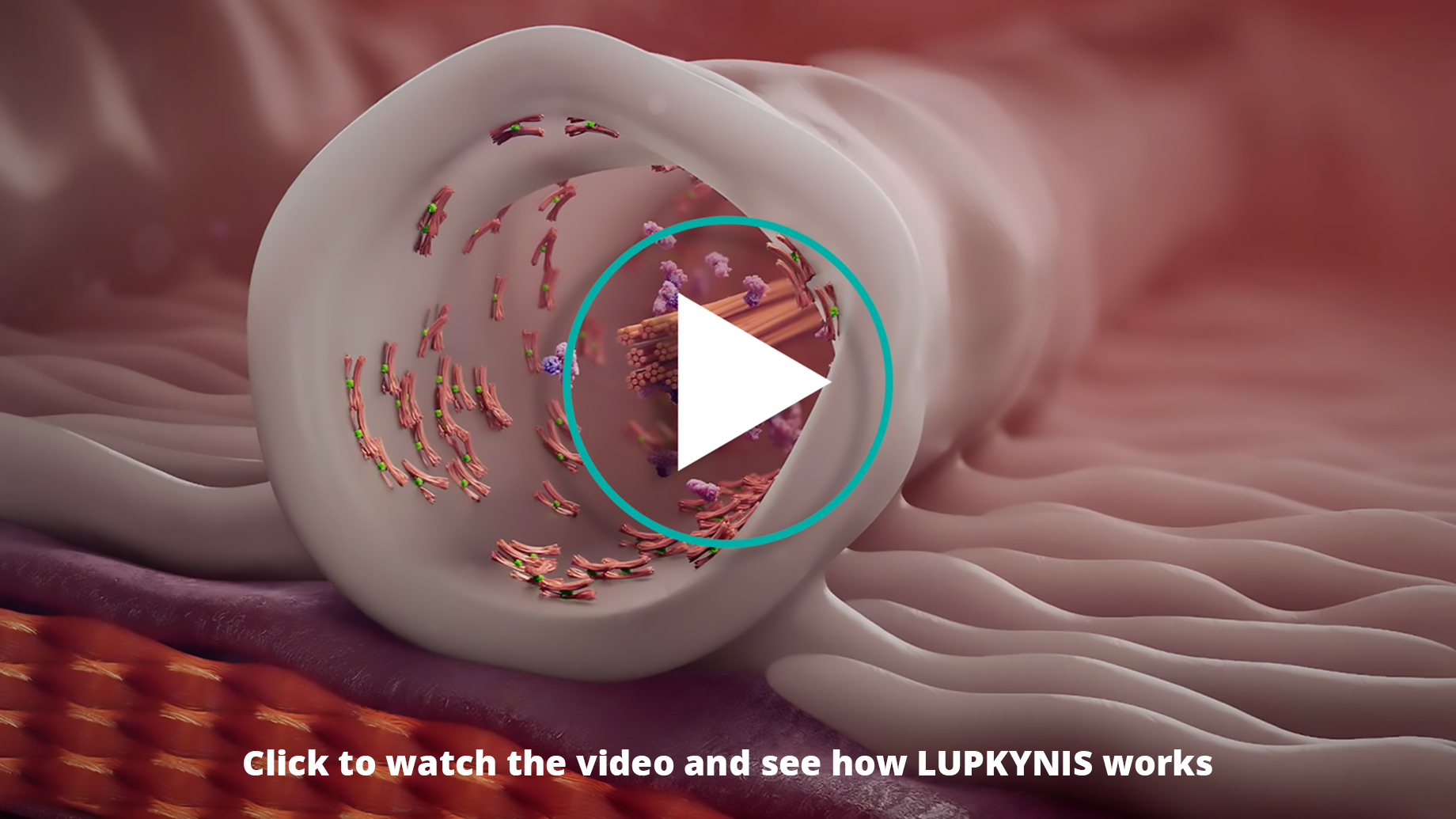 Immunosuppression
Acts as an immunosuppressant through inhibition of T-cell activation and cytokine production1
Podocyte stability
Promotes podocyte stability, reducing proteinuria1
Complete mechanism of action is not fully established.1
CNI=calcineurin-inhibitor; MMF=mycophenolate mofetil.
References: 1. LUPKYNIS. Package insert. Aurinia Pharma U.S., Inc; 2021. 2. Rovin BH, Teng YKO, Ginzler EM, et al. Efficacy and safety of voclosporin versus placebo for lupus nephritis (AURORA 1): a double-blind, randomised, multicentre, placebo-controlled, phase 3 trial. Lancet. 2021;397(10289):2070-2080. doi:10.1016/S0140-6736(21)00578-X 3. Kuglstatter A, Mueller F, Kusznir E, et al. Structural basis for the cyclophilin A binding affinity and immunosuppressive potency of E-ISA247 (voclosporin). Acta Crystallogr D Biol Crystallogr. 2011;67(pt 2):119-123. doi:10.1107/S090744910051905 4. Aurinia Pharma U.S. Inc. Data on file.
Connect with an Aurinia representative.
Sign up for the latest news, updates, and materials for LUPKYNIS.
GET CONNECTED